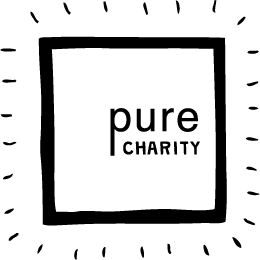 Every year, when I flip the calendar to November, I begin to feel knots wind their way around my stomach. I usually try to pretend it's not happening.
As we near December, the knots tighten, tighten.
Though many aspects of the Christmas season fill my heart with great joy, the number of gifts we buy — and the amount of money we spend — does not.
Our family loves giving, and I try to focus on the blessing of this large family that means many celebrations with many to love, but each year, I struggle with the loads of stuff we buy and the feeling that our money could be put to greater benefit.
So when I heard about Pure Charity, something in me stirred, and not in the stress-induced nauseous I've-got-to-get-shopping kind of way. I belong to a generous family, and we prioritize giving to multiple charities each holiday season, but still, with the money we spend shopping for gifts for each other this year, could we make a lasting difference?
Could Americans, who spend an average of $704 on holiday gift giving each year, do something lasting, together?
Pure Charity, partnering with more than 1,000 retailers, is providing a way to do just that! When you shop online and buy holiday gifts, a portion of what you spend goes directly to a Pure Charity giving account, and you get to decide how that money is spent. You shop at places where you would shop anyway, buying what you would buy anyway, and then the charity you've chosen benefits from your spending dollars.
Retailers include:
Apple, American Eagle, Ann Taylor, Ann Taylor LOFT, Banana Republic, Best Buy, DSW, Family Christian Stores,  Forever 21, Gap, Groupon, J. Crew, Kohl's, Lowe's, Marriott, Petco, Petsmart, Pottery Barn, Priceline, Sephora, 7 For All Mankind, Southwest Airlines, Target, Walgreen's, West Elm and Williams-Sonoma.
So here's how to get started:
Sign up for a Pure Charity account. You can "follow" me at Draw Near blog, and then scroll down to "Get Started" and create your own account. If you're on Facebook, you can sign in that way, or create an account the old-fashioned way. This is really a personal charity account that you create for free, that allows you to give when you shop.
Install the browser plugin. This way, a Pure Charity icon will pop up when you're browsing particular stores online.
Register your main credit card with Pure Charity. Every time you use your credit/debit card at one of Pure Charity's participating merchants — online or in store– you receive a percentage of the purchase into your giving account.
Now, browse the projects (there are so many incredible ones — from supporting fresh water initiatives to building an orphanage in Haiti to freeing trafficking victims). Our family is supporting The Mercy House, which provides vocational and educational training to pregnant girls in Nairobi, Kenya. It would be so cool to see how much we could raise for The Mercy House working together, but really, I'd be thrilled if you chose any organization to benefit from your holiday giving. (To start funding any project, simply begin with a $5 donation.)
Support your favorite project. Be sure to notice the amount of money needed to fund a project by a certain time. If the project doesn't fund by the finish date, Pure Charity will refund the money back into your giving account.
Share Pure Charity with friends! If you sign in using Facebook, you can easily share the cause with friends. Or you can send an email to those you select from your address book, letting them know of the project you've chosen to support.
Just a little more about Mercy House … It was begun by a young American family after the mother, Kristen at We Are That Family, made a life-changing visit to Kenya. The house provides pregnant Kenyan girls with a place to call home, the opportunity to receive an education (as many Kenyan schools kick pregnant girls out) and practical job skills they can use to support themselves and their children for the long-term. This house is an alternative to life on the streets, giving girls resources that break the cycle of abuse, poverty and child abandonment.
I'm thrilled at the thought of our collective dollars doing more than providing some nice gifts. Would you consider taking the few moments needed to visit Pure Charity? It's easy to get started today.
Thanks so much, friends.